YOUR FITTED FRAMES UNIQUE TO YOU
Custom frames mean superior fit and striking comfort. Our crafty opticians take your precise measurements and mold a frame for your eyes only.
These custom-crafted frames come in over 1000 shape-and-color combinations from our most trusted brands. Browse our exciting inventory, and enjoy the experience. Please book an appointment for the best assistance and watch your glasses take shape.
In the optical at East Memphis Optometry, you will find iGreen's 4.0 collection, O-Six Custom, and Giorgio Valmassoi Custom. Each line allows you to be the designer of your own eyewear and "build yourself" a model that reflects your personality perfectly.

Choose the shape you prefer and use your creativity to choose from a wide range of colors, and design your own unique eyewear with your name on them. All Custom-made glasses customized by the customer, 100% made in the USA.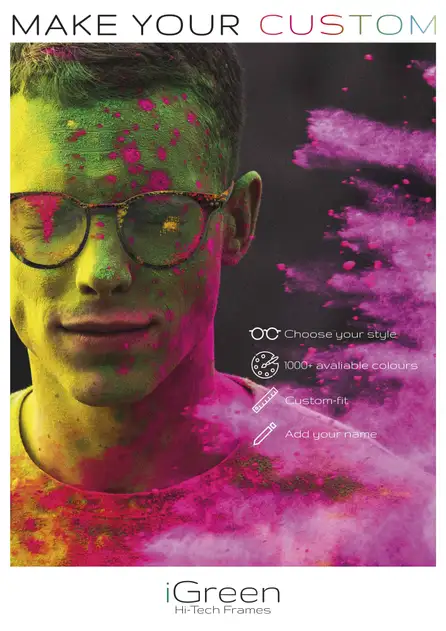 Imagine being able to wear what represents you best. Endless possibilities to express your creativity without limitations, envision yourself wearing a frame created and designed by you! Our iGreen Custom program brings this vision to life, where you are the designer of your own unique frame. We have created a program to ensure everyone has the perfect fit no matter which style they love from our 4.0 Collection and that's why we offer up to three different eye-sizes for every custom shape.
We have handpicked styles that we know our community will like based on shopping trends and requests. Each frame can either be purchased right there right then or you can choose to customize the frame size, color and pattern, temple color and. material, include notepads or keep them off AND you will choose what to name your custom frame. Up to 10 characters can be etched into the frame during production if you choose.
There is a frame for each personality, which is yours? Classic or extravagant, round or squared, black or colored, with O-SIX custom, you can set your style and create your O-SIX!
EXPRESS YOURSELF, start creating your O-SIX: Customize Now!
Giorgio Valmassoi Custom Collection

Each creation is handcrafted by our master craftsman in our Miami factory in the USA.
These frames are all synonymous with classic style, elegance, and high quality. Every step of the production process is meticulously controlled to ensure flawless quality and the highest level of craftsmanship.
Every design is handed to the customer in a luxury gift box for a remarkable presentation.